Dear ICHG 2018 Participant!
There are now only 2 days to start! Here are some final remarks concerning your visit in Warsaw:
Registration & Venue
The conference will take place at the University of Warsaw, 26/28 Krakowskie Przedmieście Street, PL-00-927 Warszawa, between Monday 16 July and Friday 20 July 2018. See map here.
The registration will be available thorough all conference days (except Wednesday – field-trip day) at the Hall inside just after the main entrance.
We're starting at 09:00 on Monday (16.07), so be prepared to arrive at approx. 08:30 to register before sessions start!
Lunches, coffee breaks and Icebreaker are also at the Old Library (main venue).
Programme & Abstracts
Direct link to programme and abstracts
Events at the Institute of History, Polish Academy of Sciences
We would like to invite you for two lectures which will be delivered at the Institute of History, Polish Academy of Sciences:
Plenary keynote lecture by prof. F. Driver: Biography and geography: from the margins to the center, Sunday, 15/07/2012, at 20:00-21:00
An introductory lecture for the field trip Warsaw Urban Development by the chair of the LOC, prof. M. Słoń: Foundation of the both cities of Warsaw, Wednesday, 18/07/2012, at 09:00-9:30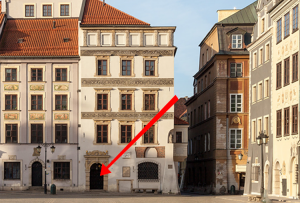 The place of both events is: Institute of History, Polish Academy of Sciences, Address: Rynek Starego Miasta 29/31, Joachim Lelewel's Hall (2nd floor). See map here.
Mobile application
The application contains basic and most important information about the conference and accompanying events (trips, gala dinner)
It is available for download on Android and iOS
Each participant will receive unique password and login sent by a separate e-mail (as well as the download link)
The application will allow you voting for the best poster
In case of any problems please contact us at the address: ptqv@ptqv.pl
Competition for the best poster
All posters – printed and digital – take part in the competition. There will be prizes for the best posters:
7 money prizes (750 PLN per poster)
At least one special prize: the winner of which will be chosen among mentioned seven: six-month scientific internship in a selected Polish scientific institution (worth 24 000 PLN per person);
EXTRA: two prizes of £ 100 each funded by Routledge Publishers
Terms and conditions of the competition
Posters and poster sessions
Each day's agenda (excluding Thursday) will include poster sessions which will be held in the conference rooms with IT support and short (up to 5 minutes) presentations without discussion. Participants will be able to use Power Point but the time will be strictly limited to 5 minutes. Posters will be presented all the time from Monday morning to Friday evening at the second floor of the venue. On Tuesday, there will be special Poster Exhibition (18:30-19:30) and on Friday (18:00-19:00) – the final ceremony with announcement of the winners.
Reorganization of the last day of the conference (20.07.2018)
Unfortunately, due to the deterioration of health, one of our key speakers, Professor H. Manikowska, had to cancel her lecture
Poster sessions are combined into one, from 16:00 to 17:30 (main Aula)
From 18:00 to 19:00: the results of the competition for posters and the closing ceremony (main Aula)
If you need any help at the conference venue due to the movement disability, please do not hesitate to contact organizers!
Should you have any question, don't hesitate to contact us at: ichg2018@ihpan.edu.pl